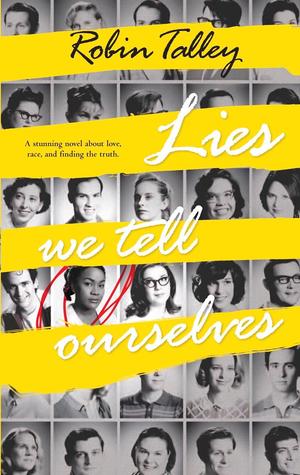 Title:
Lies We Tell Ourselves
Author:
Robin Talley
Publisher: Harlequin Teen
Publication Date: September 2014
Source: Library
Read in May 2015... this review has been sitting in my drafts... whoops! lol
In 1959 Virginia, the lives of two girls on opposite sides of the battle for civil rights will be changed forever.

Sarah Dunbar is one of the first black students to attend the previously all-white Jefferson High School. An honors student at her old school, she is put into remedial classes, spit on and tormented daily.

Linda Hairston is the daughter of one of the town's most vocal opponents of school integration. She has been taught all her life that the races should be kept separate but equal.

Forced to work together on a school project, Sarah and Linda must confront harsh truths about race, power and how they really feel about one another.

Boldly realistic and emotionally compelling, Lies We Tell Ourselves is a brave and stunning novel about finding truth amid the lies, and finding your voice even when others are determined to silence it.
I really loved this book. I cared about the characters from page 1. I wanted to cry, cringe, throw things... I hated that I was reading a fiction story based on facts. That these types of things, and worse, happened to anyone. The writing just pulls me and I feel like I'm there. Like I'm going through what these young women are going through. And I definitely wasn't there. I've never lived in Virginia, I didn't live through desegregation; I never experienced any of that. But this author made me feel like I did.
If I had rated the book 2/3 of the way in, it probably would have been a resounding five stars. I loved it that much. I felt it. But then it started to feel rushed. And slightly... preachy, maybe. And it all wrapped up so neatly with a pretty bow on top... and not that I don't like happy endings. I do. I really do. But it didn't feel as real to me with that bow.
Then there's the issues. While it's a book essentially about racism, about segregation/desegregation and what it meant to those kids who were experiencing it, the issue of sexuality was brought in, as well as abuse. It's obvious very early on that Sarah experiences feelings for girls that she "should" be experiencing for boys. By the end of the book, I kinda felt like the author was saying "How many issues can I throw into one book and make it work?" Most of it did. And while I get that Sarah is a God-fearing Christian who is highly involved in the church, the Bible quoting and relentless thoughts/talks about sin could have been pared down some for my tastes.
Overall, though, I found it to be a very enlightening and engaging read. So, despite a few minor hangups, I'm going with four (really four and a half, probably) stars. I loved the characters, and even though it seemed to me (again, I wasn't there in that time period, so there's that) that some of the romantic (for lack of a better, more proper, word) elements were a bit far-fetched, I rooted for them to survive, to believe in themselves, and to develop their own beliefs and not just regurgitate what their elders and peers were always saying.
This is definitely a book I would recommend to anyone who:
loves a good story
enjoys historical fiction
wants likeable and hateable (is that a word?) characters
like authors who drag them along with their writing
needs a supplemental historical fiction book when teaching about Civil Rights
Have you read it? What'd you think?