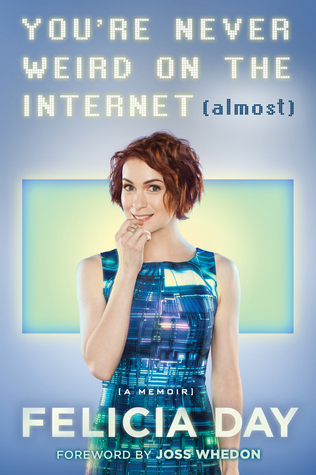 Title:
You're Never Weird on the Internet (Almost)
Author:
Felicia Day
Publisher:
Touchstone
Publication Date:
August 2015
Source:
Library audio book (own paperback)
Rating:
FIVE STARS
From online entertainment mogul, actress, and "queen of the geeks" Felicia Day, a funny, quirky, and inspiring memoir about her unusual upbringing, her rise to Internet-stardom, and embracing her individuality to find success in Hollywood.

The Internet isn't all cat videos. There's also Felicia Day—violinist, filmmaker, Internet entrepreneur, compulsive gamer, hoagie specialist, and former lonely homeschooled girl who overcame her isolated childhood to become the ruler of a new world... or at least semi-influential in the world of Internet Geeks and Goodreads book clubs.

After growing up in the south where she was "home-schooled for hippie reasons", Felicia moved to Hollywood to pursue her dream of becoming an actress and was immediately typecast as a crazy cat-lady secretary. But Felicia's misadventures in Hollywood led her to produce her own web series, own her own production company, and become an Internet star.

Felicia's short-ish life and her rags-to-riches rise to Internet fame launched her career as one of the most influential creators in new media. Now, Felicia's strange world is filled with thoughts on creativity, video games, and a dash of mild feminist activism—just like her memoir.

Hilarious and inspirational, You're Never Weird on the Internet (Almost) is proof that everyone should embrace what makes them different and be brave enough to share it with the world, because anything is possible now—even for a digital misfit.
So I've said this before. Audio books and I don't really mix all that great. It's not that I can't hear or don't want to listen to them. It's that I lose focus. So typically I only listen to audio books for rereads, just in case. And the reader of the book matters immensely. Rebecca Gibel, who narrated the Splintered series by AG Howard was amazing. Will Patton, narrator of The Raven Cycle series by Maggie Stiefvater? Superb. Whoever it was that attempted to narrate The Hunger Games? Um... no. But Felicia Day? Narrating her own memoir? A-freaking-awesome. And it wasn't a re-read. I was on a road trip all by my lonesome and needed company. :)
I can't say enough good things about this book. I've seen Felicia Day in a few things - the first few episodes of The Guild (time hasn't allowed me to continue, but I plan on it), Supernatural, Buffy the Vampire Slayer... but I've never really 'followed' her, per se. But this book... this book, despite all of our actual differences, made me feel like someone got me. And I still feel that's a little weird to say, given that it's not like we actually had a conversation. And we are ENTIRELY different people with different life styles and ambitions. But there was something about her openness, her honesty, that struck a chord with me. And I love her for it.
I'm not a gamer. I'm not "into" mass-multi-player-online-role-playing-games (see, I'm sure that's not even right... that's how much I'm not "into" it). I haven't the slightest what Felicia was talking about when on those subjects. But she made it relatable and did not come across as being put out by someone reading/listening to her book who didn't know the ins and outs of gaming.
I want to sit down with her and have coffee and pancakes and talk about life. #lifegoals :)
If you've read it, do you share my enthusiasm? If you haven't, I really suggest you look into it. You might just be surprised.
Smiles,
B