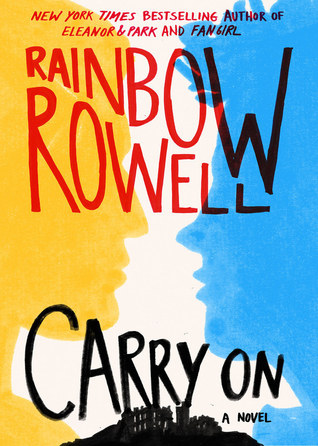 Title:
Carry On
Author:
Rainbow Rowell
Publisher: St. Martin's Griffin
Publication Date: October 6, 2015
Source: Own
Rating: 5 stars (or 20... whatever...)
Simon Snow is the worst chosen one who's ever been chosen.

That's what his roommate, Baz, says. And Baz might be evil and a vampire and a complete git, but he's probably right.

Half the time, Simon can't even make his wand work, and the other half, he sets something on fire. His mentor's avoiding him, his girlfriend broke up with him, and there's a magic-eating monster running around wearing Simon's face. Baz would be having a field day with all this, if he were here—it's their last year at the Watford School of Magicks, and Simon's infuriating nemesis didn't even bother to show up.

Carry On is a ghost story, a love story, a mystery and a melodrama. It has just as much kissing and talking as you'd expect from a Rainbow Rowell story—but far, far more monsters.
OH, MERLIN!
Seriously. Rainbow Rowell has super powers. For real. The way she can weave a story... the way she can suck me in and make me forget the world exists outside of her pages... I can't even begin to imagine a book world without her in it.
It doesn't seem to matter what she is writing about - normal teenage drama, magickal teenage drama, adult drama... I'm there. I'm
feeling
it
all
. And I FREAKING LOVE IT.
I loved watching Simon grow and learn about himself. I loved watching Baz struggle with who is - not only as a person, but as a vampire. The dynamics between all the characters leap off the page. The voices of each were so distinct there was no confusion as to who was narrating the part I was reading. And the
intensity
of the story, the tension between characters... whew! She writes it better than real life usually presents it.
More, please. Not necessarily Simon/Baz/Penelope/etc, just more. More writing, more stories, more characters I can fall in love with and wish were really in my life. More.