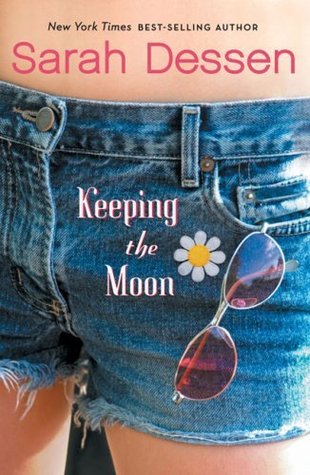 Title:
Keeping the Moon
Author:
Sarah Dessen
Publisher: Speak
Publication Date: September 1999
Source: Own
Rating: 3 stars
The Scoop from Goodreads:
Colie expects the worst when she's sent to spend the summer with her eccentric aunt Mira while her mother, queen of the television infomercial, tours Europe. Always an outcast -- first for being fat and then for being "easy" -- Colie has no friends at home and doesn't expect to find any in Colby, North Carolina. But then she lands a job at the Last Chance Cafe and meets fellow waitresses Morgan and Isabel, best friends with a loving yet volatile relationship. Wacky yet wise, Morgan and Isabel help Colie see herself in a new way and realize the potential that has been there all along
I found this in my drafts. Wrote it when I read the book back in October, just never completed the actual post. So... yeah... here ya go. :)
So I was looking for something to read over the weekend. Ever since I finished Blue Lily, Lily Blue, I've had a hard time with finding something I liked. I read, and disliked, Gone Girl (feel free to throw things at me... and it wasn't just the ending I didn't like). I
tried
to get into Girl of Fire & Thorns, but just couldn't. I read a good portion and realized I just wasn't that into it. Some day I may revisit it. I tried Elsewhere by Gabrielle Zevin, and found myself just simply not caring. I thought it was strange and uninteresting. I tried a few pages of a few other books, but nothing was grabbing my attention. As I was browsing my bookshelf, I realized I had a Sarah Dessen book on there I hadn't read. I thought "I can always get into these, no problem." So I picked it up.
And I did enjoy it. I really like Dessen's writing. It's simple and beautiful. And, for the most part, I really liked the characters in this one. Let's start with Colie (actually, it's Nicole. Sparks. Nicole Sparks. I wonder if that similarity was done on purpose?). She's a lost soul. Truly. Once she and her mom finally settled down in some place, her mom and her both lost weight. But while her mom went on to be a successful weight loss-related product spokesperson, Colie is left feeling alone and broken. She's only ever had people be mean to her and she doesn't know how to cope/deal/let go of it all and just be herself. She is sent to live with her eccentric Aunt Mira in Colby. She meets Norman, who is a collector of all things with which he uses for his artistic creations. He's also a painter and a really sweet guy. She also becomes friends with her neighbors and coworkers (she gets a job at a restaurant where Norman is a cook and these two gals are waitresses), Morgan and Isabel. Morgan is a peacemaking, trustful person, while Isabel is a straightforward, tell-it-as-it-is type person.
So, there's a brief description of the main characters. There's no major drama, just your typical run-of-the-mill type things. But there's a lot of self-discovery and realizing what's important and what's not. And while all of those things are done well, there were a few hiccups for me with this one.
One: The Fat Years. Maybe it's my own sensitivity, but Colie loses 45 pounds. And I'm by no means saying that being 45 pounds overweight is a good thing. It can wreak havoc on your health. But, calling it "The Fat Years"? I don't know. For some reason that phrase just made me cringe... every time I read it. Every. Single. Time.
Two: Preachiness. There's always a lesson in a Sarah Dessen book. Always. But I just feel like this one was a little preachy in that sense. Not-so-subtle. I like subtle when reading a novel when it comes to lessons. So Mira had a conversation with Colie and it was obvious she was specifically trying to point things out to her to help her along. And same with other characters. Not that these things didn't need to be said, I just felt like it was a bit too "out there." Make sense? (In all fairness, I think Dessen has improved on this tremendously throughout her writing...)
Three: Cluelessness. There was quite a bit of it. Mostly on the part of Colie. This is VERY minor and has no bearing on how I feel about the book as a whole, tho. Just something I wanted to point out. I'm sure I was pretty clueless at that age as well, but dang. Sometimes I wanted to reach through the pages and just spell it out for her. (That goes against how I feel above, tho, doesn't it?)
All in all I really enjoyed this one. Mostly it was the second hiccup. It just took me out of the story more than I'd like. Keeping in mind it's one of her earlier works, I will still get excited over new ones she has comes out. Like
Saint Anything
. (Out May of this year... woot-woot!)