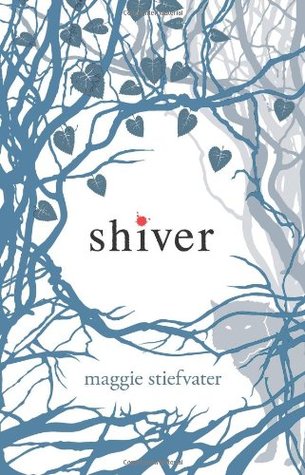 Title: Shiver
Author: Maggie Stiefvater
Series: Wolves of Mercy Falls (#1)
Publisher: Scholastic
Publication Date: August 2009
Source: Own
Format: Hardcover
Rating: 4 stars
For years, Grace has watched the wolves in the woods behind her house. One yellow-eyed wolf—her wolf—is a chilling presence she can't seem to live without.

Meanwhile, Sam has lived two lives: In winter, the frozen woods, the protection of the pack, and the silent company of a fearless girl. In summer, a few precious months of being human… until the cold makes him shift back again.

Now, Grace meets a yellow-eyed boy whose familiarity takes her breath away. It's her wolf. It has to be. But as winter nears, Sam must fight to stay human—or risk losing himself, and Grace, forever.
I wanted to love this one more than I did. I did like it, but I just felt it was lacking in some ways. I really feel like, since this novel, Maggie's writing and story/character development has really grown. In her more recent novels, which I have loved, I have definitely felt more attached to her characters and more "in" the story. I'm curious to see where the rest of this story goes, though.
That being said, I really liked it. I would have liked to have seen a little more character development for some, though. Like Olivia, for instance. I didn't really truly care one way or the other what happened to her. And Rachel. But Grace, and Sam, the main characters, I was pretty much in. It took a while to really get there, though, which was a little frustrating. I actually picked this up three different times before *finally* getting into it. I would always get about 40 pages in and give up.
Thankfully I got past that wall and was able to enjoy the story. I still feel there could have been more to it, more to the characters themselves, but we'll see where Linger takes us.
And, on a sort of side note, talk about a READING FAIL. So I put Shiver back on my shelf and grabbed the next one off the shelf. Started reading and thought "Wait a sec," and looked more closely at it. Yep. I had picked up
Forever
, the third in the series instead of the second. Can you say spoiler? Ugh. Such is life, I guess. But, when I started
Linger
, I discovered it wasn't as much of a spoiler as I thought, so there's that.