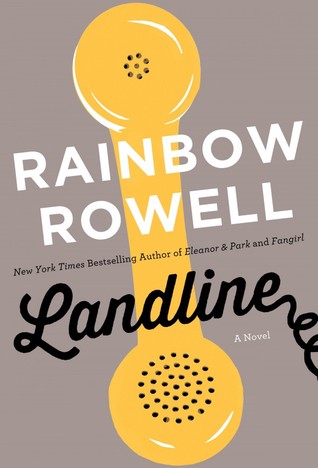 Title:
Landline
Author:
Rainbow Rowell
Series: No
Publisher: St. Martin's Press
Publication Date: July 2014
Source: Own
Format: Hardcover
Rating: 5 stars
Georgie McCool knows her marriage is in trouble. That it's been in trouble for a long time. She still loves her husband, Neal, and Neal still loves her, deeply — but that almost seems beside the point now.

Maybe that was always beside the point.

Two days before they're supposed to visit Neal's family in Omaha for Christmas, Georgie tells Neal that she can't go. She's a TV writer, and something's come up on her show; she has to stay in Los Angeles. She knows that Neal will be upset with her — Neal is always a little upset with Georgie — but she doesn't expect to him to pack up the kids and go home without her.

When her husband and the kids leave for the airport, Georgie wonders if she's finally done it. If she's ruined everything.

That night, Georgie discovers a way to communicate with Neal in the past. It's not time travel, not exactly, but she feels like she's been given an opportunity to fix her marriage before it starts . . .

Is that what she's supposed to do?

Or would Georgie and Neal be better off if their marriage never happened?
Another that I read during my unintentional blogging hiatus. Here's what I wrote on
Goodreads
:
A-freaking-mazing.

It's no secret that I love Rainbow Rowell. I'll recommend her to nearly anyone. I love her writing style, her characters... everything seems so real. Even when I've never experienced it myself, it feels like I am. Right then. And oftentimes, I've found myself wondering if she has somehow stalked me, gotten into my head, and made my thoughts appear in her books. I realize that's probably not in the realm of possibilities, but still. Sometimes... I wonder.

So we meet Georgie. We meet Neal. We meet Seth. It goes back and forth, from the past to present, and we get glimpses into the lives of these characters, to how they got from there to here. And it felt so seamless. Rowell does an excellent job of providing back story without taking you out of the current story.

I was barely halfway through it when I got sad that it would end and I would be forced to wait for another book to be published by Rowell. I, for one, cannot wait to see what she does next.
Yeah. I'm a Rainbow Rowell fan, for sure. :) I definitely feel like her writing has come into its own and I'm super excited to see how it continues to evolve.
Have you read this one? Did you like it?
Smiles,
B